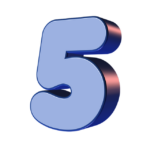 What have staff at TSCPL been learning about this week? Here are five training topics, sessions, and resources that staff members were focused on.
Review what empathy is (and what it is not) and how we can use empathy to improve our interactions and relationships with colleagues and customers, too.This is the all-staff training for June, created by our own Kate Hughes. Let Brenda or Kate in Staff Training know if you have any trouble accessing or completing the course.
There's always something more to learn or understand about Communico! Did you know there's a page on the intranet devoted to Communico how-to guides and training?
Bookmobile staff with a Commercial Driver's License (CDL) are required to participate in training focused on human trafficking, but they recommend that all staff attend training on this important topic.
Not everything is on the Internet! Have you used the microfilm scanner in the Baker Genealogy Center? This brief tutorial explains how.
5. Anxiety at Work: 8 Strategies to Help Teams Build Resilience, Handle Uncertainty, and Get Stuff Done
This webinar presented by one of the authors of the book, Anxiety at Work, discusses ways to alleviate stress, manage uncertainty, encourage people to speak up when feeling overwhelmed, beat perfectionism, and get things done. Recording (free, but requires sign-up) and Slides