Hybrid events are events that have both a physical library room and a virtual room associated with it. Hybrid event settings use both the in-person registration settings and the virtual event settings for integrated zoom.
Start in Communico's Attend module.
Select TWO Venues First
Start by selecting both a virtual room and a physical room when setting the venue.  The Virtual Event Settings section only displays when a virtual room is selected.
1. Select the date, time and frequency (if needed).
2. Once your date and time is added, open the venues and select TWO locations
Enable the Registration Settings
Registration and the companion Attendees Settings are required for in-person attendees in Communico hybrid events. Only two fields are required to make the registration button appear. Add other attendee options as you see fit.
1. Enable registration
Enabling registration also reveals the attendees settings.
2. Add maximum number of in-person attendees
Set the max number of attendees to the room max
Virtual Event Settings
The Communico virtual event settings section is basically a pass through of Zoom meeting settings.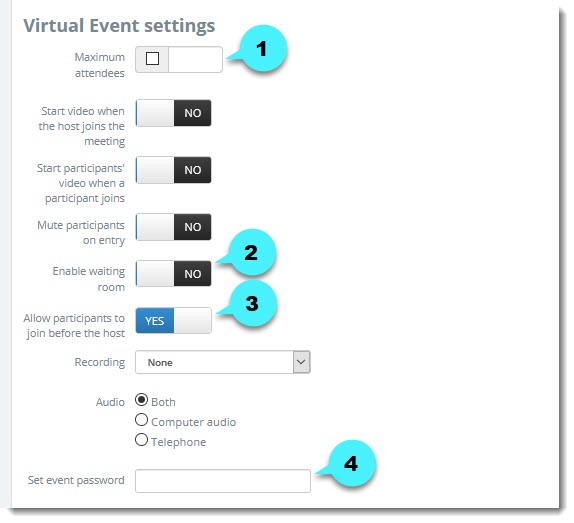 1. Add maximum number of attendees
The max number of virtual attendees Zoom allows is 300.
2. DO NOT enable waiting room
3. DO enable allow participants to join before host
Presenters are considered participants until they claim the hosting role. If turned on, Enable Waiting room will take precedence over Allow participants to join before host.  So we want to avoid the waiting room when possible!
4. Add a password (letters or numbers)
Zoom requires some kind of meeting security and the library's preferred option is password. If a password isn't present when creating a zoom meeting in Communico, Zoom will automatically enable the waiting room for everyone.
The Customer View
Hybrid events clearly display two registration options to the customer, allowing them to decide which venue they prefer!