Heads up – the library is starting a new type of training – digital security awareness training. This training will help safeguard the library against online phishing, malware, and ransomware attacks that happen quite often in today's wired world.
Why is it Important?
We have a responsibility to our customers to protect their information and privacy. Because of the amount of customer data libraries have, libraries can be a popular target for data mining and breaches of information.
Examples:
How are we going to address this issue?
The Library is using KnowBe4 to do Security Awareness Computer-Based Training with our staff.
Training Campaign Action Plan
Bi-Monthly Simulated Phishing attacks (these have already started).
Quarterly Security Awareness Training:

Online training modules range from 5 to 45 minutes.
Staff will be required to complete the "knowledge check" at the end of each video.
Training will be MANDATORY for all staff.
Staff will have 5 weeks to complete a training module.

Onboarding new staff

New hires will automatically be enrolled in the campaign when they start.
Everyone will receive an enrollment email that will look like this. Click on the link in the email to register and login to start your Digital security awareness training.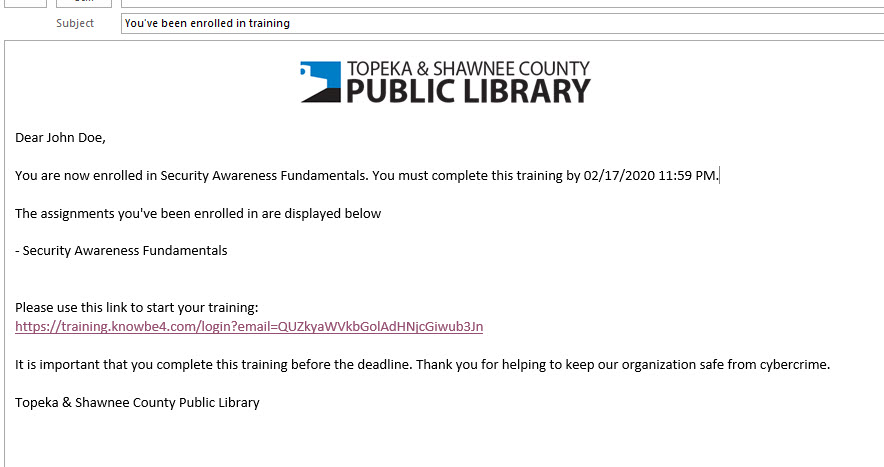 Training modules will include Security Awareness Fundamentals, Secure Passwords, Respecting Privileged Access.
Have any questions? Please ask!