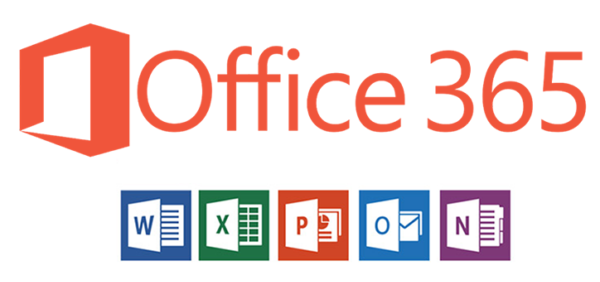 Monday night, we will be completing the mailbox migration to Office 365. This will require new software and some new first steps when you sign in to your computer for the first time on Tuesday.
What will be changing?
Our email will no longer be hosted on site, which gives us redundancy should we have an interruption in our internet service. Additionally, mailbox sizes have increased, allowing us to keep necessary emails without impacting our storage needs on site.
As we complete additional parts of our migration, we will also be able to provide access to files needed for presentations, etc, while off site. Your M drives will be moving to the cloud initially, allowing you access to your personal documents outside of the library. Ultimately, the global and department drives will follow suit, but that will occur in a subsequent phase of the roll out.
Please note: HR guidelines state that non-exempt employees should not be accessing their files when not clocked in for scheduled work. Please check with your supervisor or Human Resources if you have any questions about access policies.
New Software
Staff workstations will be logged off tonight and restarted several times during the deployment to get the new Office 365 software. The look and feel is very similar to Office 2013 (which we are currently running) but you may notice slight variations in wording and menus. Additionally, on first launch, you will be prompted to log in and activate the software. This will only occur the first time, but when you change your password you may be re-prompted by Office to update your stored credentials.
In addition to Outlook, Word, Excel, and Powerpoint, you will notice an icon for Microsoft Teams and will be prompted to log in the first time. Teams is the Microsoft collaboration software, allowing chat, sharing of documents, and posting of information. It is a quick way to be able to communicate with your department and other groups/committees you may be a part of. Initially, you will likely only see your department listed, but over time and working with individual groups more may come to be used. We will be working with departments and teams to facilitate rolling out this resource as needed. For now, just log in and you can safely minimize it.
Online Access
All of your applications will be also available online. Go to https://portal.office.com and log in with your work email address.
OneDrive
One of the big advantages of Office 365 is the ability to autosave documents, collaborate in real time, and access your documents from anywhere, from multiple devices.
From your file explorer, check out the left column. You will see a link to OneDrive – Topeka & Shawnee County Public Library. Clicking on it will show you the branded title on the top of the window. This is how you know you are looking at the backed up drive location. We will be migrating your M drive documents to OneDrive, so this will become the new way to access your files.
The Status column will show you various icons depending on what it's doing. A green check means that the file has been sync'd to the cloud. A blue arrow means that it is pending a sync, so isn't backed up yet.

Files saved to this location will automatically save, and create versions as you save them. This means you will have a "living history" of the document, allowing you to revert changes you or someone else inadvertently made. To see previous versions, click the down arrow next to the document title. You can browse and open previous versions from that list. If autosave is grayed out and not clickable, that means the file either is not saved to your OneDrive, or it is not a supported file type. You will still be able to manually save copies of it anywhere you want.

First Time Logon
The first time you log in to your computer, you will see the application Microsoft Teams pop up, and prompt you to log in. Enter your work email address and click "Sign in"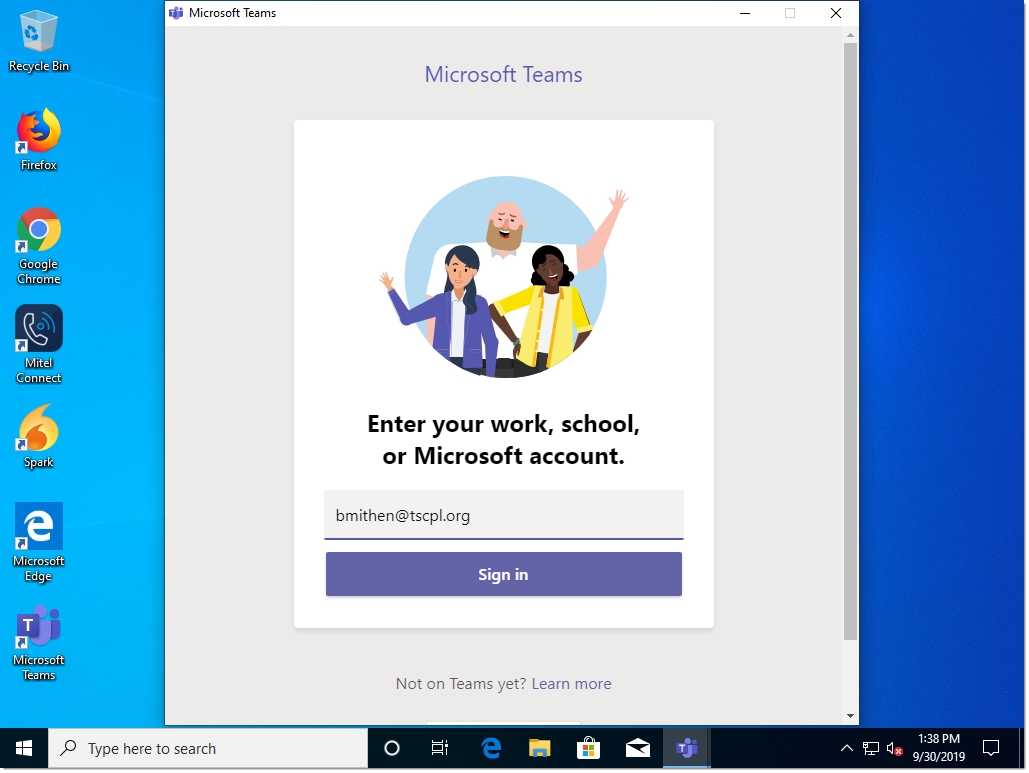 On the next screen, you will see a branded password window. This lets you know the site is legitimate and sponsored by TSCPL. Never enter your username or password credentials on a site that does not have our logo and disclaimer.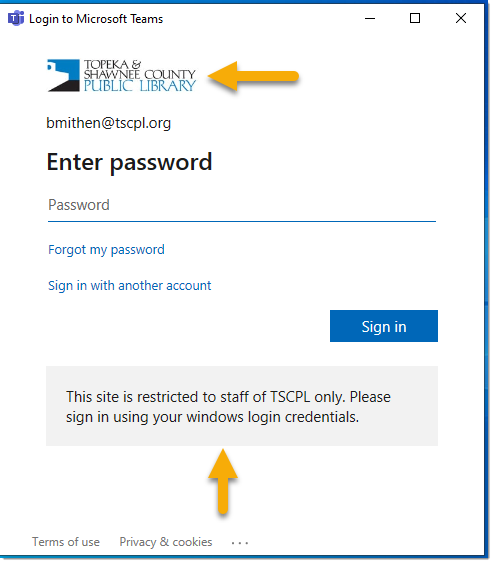 After logging in, you can close the application. It will continue to run in the background to provide notifications when necessary.
Launching Outlook
You may be prompted to log back in to your email as well. Enter your email address and click Connect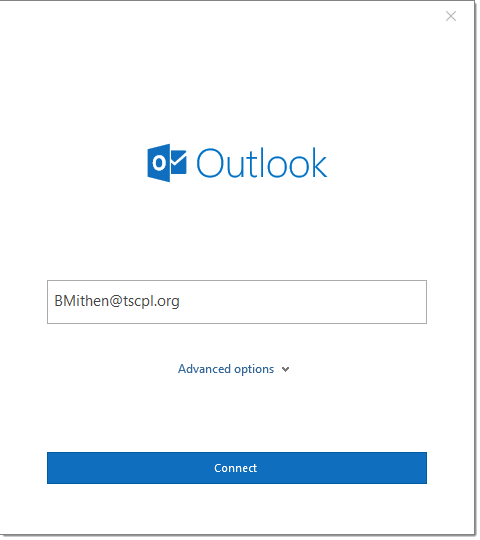 Again you will be taken to a branded TSCPL sign in window. Enter your Windows password and click Sign in. You will be prompted to allow the organization to manage your device, just click Yes. When it completes, click Done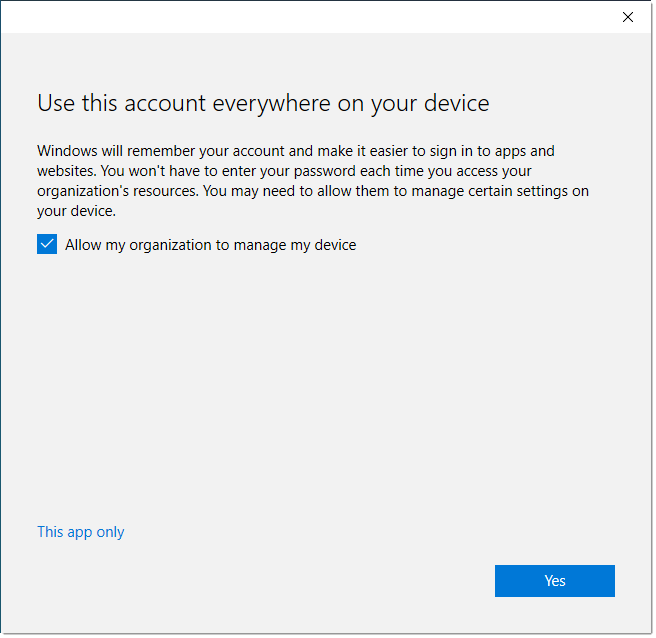 Un-check the Set up Outlook Mobile on my phone, too at the bottom and click Done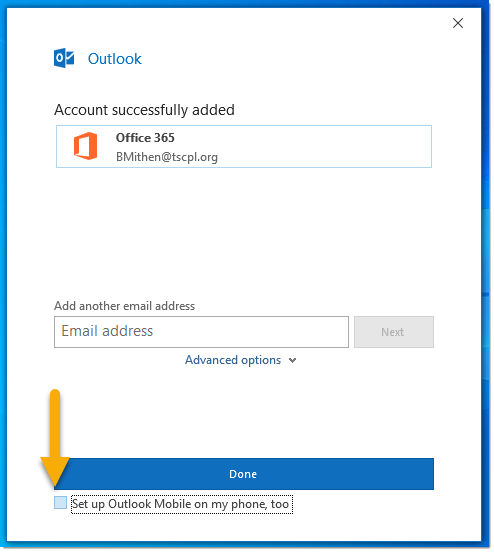 Activate Office
The first time you open any Office 365 product, you will be prompted to Sign in. Click on Sign in and enter your email address to Activate Office. It will not prompt you for your password. Again, this is a one-time procedure when you log in for the first time.

What's changed in Outlook?
Your folders are the same, as is your email. One change you may notice is how group emails are now handled. Underneath your folder list, you will see Groups. This is a quick way to locate emails that have been sent to a specific distribution group, such as your departmental email. Emails to those groups will still be delivered to your Inbox, but this allows you to quickly see a history of messages sent to that list.

One large change you may notice is when you send email to a group. If you are a member of that group, you will no longer see the email delivered to your inbox. You will still see the message under the appropriate Group box, and it will be in your sent folder. This is an intentional change made by Microsoft as requested by their customer base, but we cannot alter that behavior.
Distribution groups have also had a little face lift. They will no longer be pre-pended with DG-(Group Name) but just back to (Group Name). Email addresses have not changed, but this change was necessary to keep us running during the migration.
Whew! You made it to the end!
Digital Services will be available first thing tomorrow, ready to answer and questions and work through any issues you may be experiencing related to the migration. Please give us a call at x4600 or send us an email at helpdesk@tscpl.org if you require any assistance!