The following tips offer ways to write and format your posts to be easier to read and save time for the reader.
Tip #1: Titles should be short and meaningful
Good titles can often the most difficult part of creating a good post. Ideally, they should summarize the content of the post in as clear and concise language as possible.
Okay: "Topeka Room Update"
Better: "Topeka Room Closed Next Monday for New Carpet Installation"
Another thing to look out for is title formatting. Often, posts on the staff site are regularly appearing content (e.g. meeting minutes, newsletters). Keeping to a consistent format will make it easier to recognize similar and related content.
Tip #2: Content should be easy to scan
Avoid large blocks of text. Instead, split apart the message into short paragraphs and bulleted lists.
Front-load the content. Write with inverted pyramid style with the most important message first, followed by supporting information. This is most useful for narrative-style content. Meeting minutes, newsletters, instructions, etc. should use a chronological or topic-oriented structure.
Tip #3: Use formatting tools to add structure
Use WordPress tools to format content. Headings, sub-headings, lists, etc. help make the content easier to read as they create a visible structure. Avoid simply using bold to indicate section titles.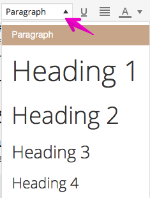 Avoid creating your own formatting for headings. Don't use bold, italics, underlines, or center alignment for section headings. Instead, use the paragraph format menu to select a heading level (2, 3, 4 or 5). (Bold formatting should be reserved for adding emphasis.)
Avoid simply copy/paste from Word or email. When you copy from from Word, special formatting will carry over making it difficult to edit and format appropriately in WordPress. The Paste as Text and Clear Formatting tools (buttons) can be useful in this situation.
Tip #4: Add hyperlinks to connect pages and sites
Add hyperlinks as appropriate. Blog posts are web pages and web pages are meant to be linked together. Link text should be the action or the destination content—never make "Click here" links.
Bad: You can register for this class online by January 20, 2016. Click here for more more info.
Good: Register for this class by January 20, 2016.
Bad: Hours and locations for Community Centers are listed on Shawnee County Parks & Rec website: http://parks.snco.us/index.aspx?NID=84
Good: Hours and locations for Shawnee County Community Centers are available online.
Tip #5: Organize your post with tags and a category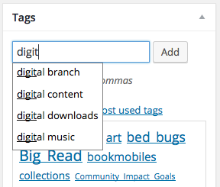 Selecting a category and adding 1-3 tags helps link together related content. Don't get too specific with tags, instead, choose tags that describe the post in general terms and those likely to have already been used. Start typing in the tag field and it will auto-complete or you can chose from the list of most used tags.