Construction will begin on restroom renovation on Monday, August 24. Work will initially focus on the restrooms in the Kids Library and outside of the Café. Both sets of restrooms will be closed beginning Monday. The restrooms near the atrium and on the second floor will still be open to customers. Once work is complete in the Kids Library and near the Café, the restrooms by the atrium and the second floor will be closed for renovation. This project should be completed in December.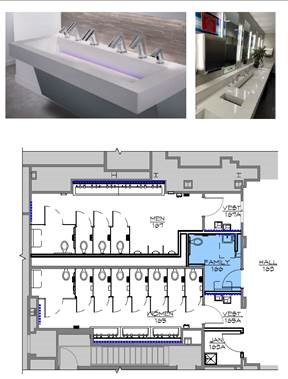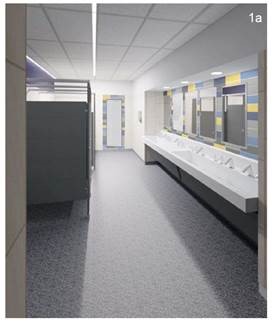 The Facilities Master Plan identified public restroom renovation as a priority in an effort to improve customer comfort, cleanliness, and safety. The current restroom configuration has led to numerous issues with standing water, a high number of touch-points, and difficulty in cleaning. In addition to this, the library does not have a gender neutral or family restroom option or a room for new mothers.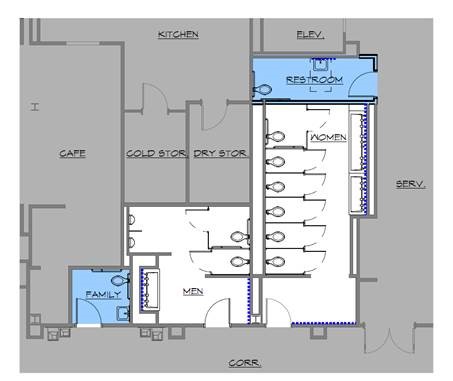 This project will rectify all these issues. The design focus of this project has been on improving hygiene, ease of cleaning, and reducing the number of touch-points in the restrooms. One improvement will be changing out the tile for poured flooring. This will eliminate grout lines which is the most difficult part of the floor to keep clean. The sinks will be trough-style, which will eliminate the pools of water that are commonplace on the current countertops and that spill onto the floor, creating slip and fall hazards. The sinks will also have built-in hand dryers and UV light which should increase hygiene for customers and reduce paper towel use and water on the floor.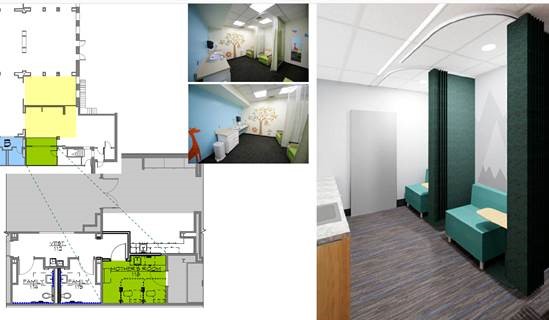 Equally important is providing equitable access to all customers. This project will reclaim space along the hallway outside of the café and the atrium that will create space for a single occupancy restroom in each location. These restrooms will be for parents with small children, adult caregivers, or anyone uncomfortable with the larger restrooms. We have also been able to make room for a mothers' room in the Kids Library. This will be a space for breastfeeding mothers who wish to nurse or pump in a private location. This room and the family restrooms are improvements library customers have requested since the building opened in 2001. These are changes that will make a significant difference for customers and will enable the library to maintain more rigorous hygiene standards, something that has become essential with the COVID-19 crisis.