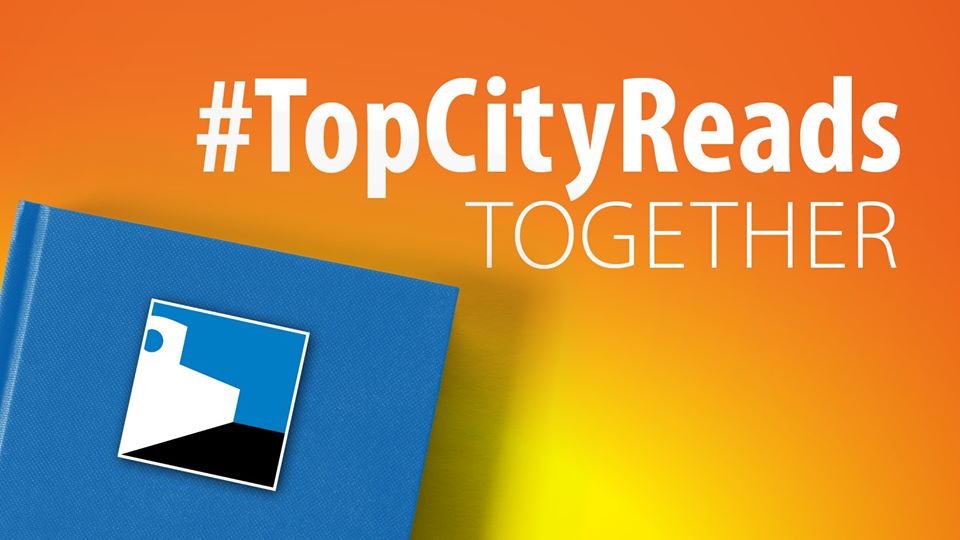 This summer we are rolling out Top City Reads Together, a new way for readers to share their joy of reading. #TopCityReads Together will bring us together this summer as we all read several books in common, then engage with what we're reading, online. Our goal is to help everyone feel a little closer together, while remaining safely apart.

Beginning on May 4th (to coincide with Summer Reading) and continuing through the month of July, we will ask the community to read one book a month. The first is The Wonderful Wizard of Oz by L. Frank Baum. This book is so much fun, for readers of all ages. We'll be talking about cyclones, terriers, lions, Kansas, and more. It's a great way to fire up the whole family for Summer Reading! 

Top City Reads Together will be entirely virtual. All of the books will be available on digital platforms, hopefully in both ebook and eaudio formats, and with simultaneous use so that there is no waiting in line to get a copy. Each week the team will post o
n Facebook various questions, activities, or videos to encourage the community to read and engage with us. Those posts will occur on Tuesdays, Thursdays, and Saturdays. At the end of each month, we will plan to have a Zoom Book Discussion and encourage anyone or everyone to attend. And of course, books can be logged in Beanstack as part of the Summer Reading Challenge — read 12 hours this summer and get this pretty cool notebook.
We are also launching a new Facebook Group (linked to main Facebook page) called #TopCityReads Together. This will be THE 
place for readers in our community to celebrate their love of reading, engage with others and dive deeper into discussion about the book of the month.

We need your help to build a buzz and spread the word. Please join the #TopCityReads Together Facebook Group and invite all of your bookish friends. Comment on posts in the group, tag some friends to engage, and share posts.
Together, we can build a place for readers online, and make this program a success.
Top City Reads Together Team:
Amber Bonnett, Autumn Friedli, Deb Ellerbrook, Marie Pyko, Miranda Ericsson, and Stephanie Hall