It's Summer Reading Time again!  That means it's time to reacquaint ourselves with BEANSTACK!  If you haven't yet, make sure you get signed up for the challenge.
Are you new to the library?  You will need to set up a Beanstack account using either the website or the Beanstack App.  Once you have set up your account, send an email to helpdesk@tscpl.org and let them know that you need admin access for Beanstack.
To access Beanstack quickly, there is a link on intranet on the right-hand side of the screen under Quick Links.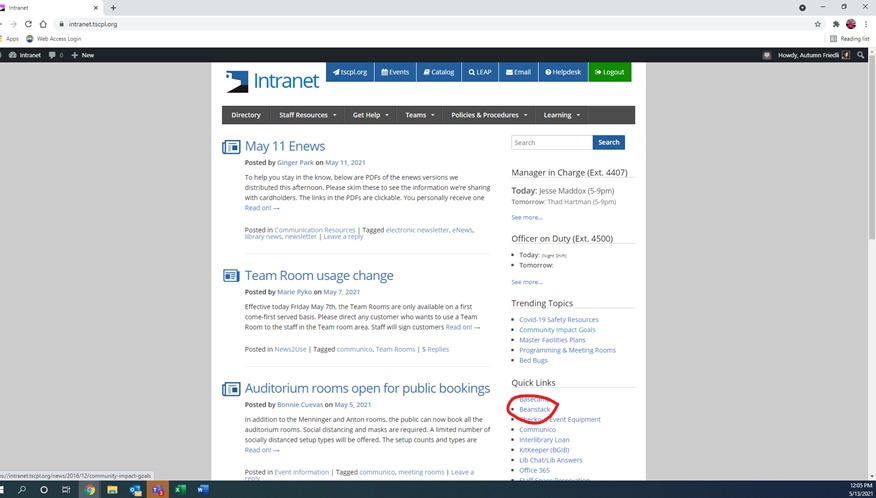 The Beanstack admin site is where to go to look-up and update accounts, log time and activities, and redeem rewards. Here's a few tips on how to accomplish those tasks.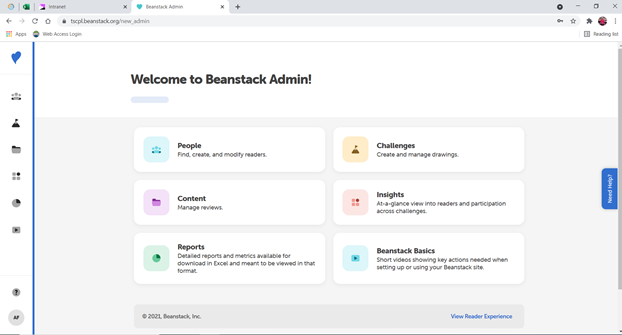 You can easily toggle back to your Beanstack account by clicking the "View Readers Experience" in the lower right-hand corner.
Registration
Encourage customers to register through the customer site or the app! There are three types of accounts available:
Individual: Select "I am registering myself."
When the patrons have their own email, and do not want to be part of a family account.
Patrons will log in and track independently of anyone else in the family.
Patrons will be automatically enrolled in the right program based on their age or grade in fall.
An individual account can't be added to an existing family account without losing progress and prizes earned.
Family: Select "I am an adult registering a child."
Everyone in the family can access account with the same username and password.
Each member can track progress and earn prizes at their own pace.
Each member is automatically enrolled in the right program based on age and grade in the fall
Any member can pick up prizes earned without the adult (account creator) present.
Groups: Log for whole group at one time
The account creator is the only person registered, and logs and picks up all prizes earned by the group.
The whole group earns badges at the same time.
Select a representative age or grade to determine which program the group will follow
Groups: Log individually
Provide all readers' names (or add them later) as they will earn prizes at their own pace
Members can redeem their prizes individually if their names are in the system.
Account Help
Account information can be accessed in the People section [People > Find a person] on the Admin side. Everything can be managed from the icons in the result list – log time/activity, redeem rewards, view activity, and enroll readers in available programs.

Logging Reading
Log reading from the result list or the reader's summary pages.
For the Summer Reading Challenge, we will be logging minutes read.  To complete the challenge, participants need to read for 12 hours total.
Log for the whole family, all-at-once, from the account creator's summary page
Redeeming Rewards
Summer reading prizes will be rewarded in August this year.  Readers will receive an email with specific
instructions when they have completed the Summer Reading Challenge.
When readers pick up their reward, make sure to record it on their Beanstack record!
Log rewards from the result list or the reader's summary page [under the Unearned badges section]
2021 Reward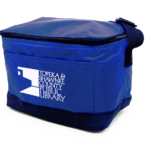 This year adults and kids will receive the same reward for completing the Summer Reading Challenge.  This year's prize is this fun cooler!!
Credit to Shannon Eddings for originally creating this document originally posted here.