Here is general information about summer 2021.  Many details are still in the works and will come out as plans continue to develop
General Information
We are not following the national theme.  Instead we are using the Gallery exhibit as the focal point of our summer plans, RAINFOREST ADVENTURE.
We are keeping summer simple.
Start and end dates:  May 22-August 15, 2021
Gallery Kids' Exhibit
This year's summer exhibit is a traveling show provided by Minotaur Mazes and funded by the Foundation! It is an interactive Rainforest Adventure.  Find details here: https://tscpl.org/exhibits/swing-into-the-library-this-summer-to-start-your-rainforest-adventure. Pretty fabulous, right?  Access will be ticketed so that we can manage the number of people in the space at one time, though drop-ins will also be welcome.
Rainforest Adventure Bags
Each week we will disperse 1,500 bags across the community aimed at school age kids.  The materials in the bags will be different each week and correspond with some aspect of the exhibit.
Each bag will include:
USDA Guide to Summer Fun
Themed activities, informational clips, and puzzles, often taken from the library's databases for kids
Themed craft supplies
Most of these will be provided at summer meal sites, but some will be made available through the Gallery and through Curbside.
Video demos of the craft projects will be  posted on the website each week.
These more-or-less take the place of what was Readapalooza.
The assembly line type production side of these is set up in Lingo.  Stay tuned.  If you have not already been a part of the development and distribution of these, you may yet get your chance.
Events
We are featuring three events.
June 21-27     YouTube     Yasu Ishida:  Japanese folktales with origami and magic
July 12     Live (outside)     Cruzline:  Drum performance
August 2-4     YouTube     Jim Gill:  Concert
We may dabble in some additional in person experiences.
Reading and Rewards
It's simple.  If you are age 5+, read 12 hours to earn a prize.  Use the Beanstack app.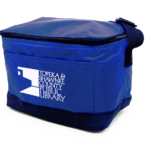 1,000 Books Before Kindergarten
We have an ongoing, reading incentive program for children age 5 and younger.  Please direct our youngest summer readers to 1,000 Book Before Kindergarten.  It is also through Beanstack.  Yep, there is overlap at age five.  Those kids could do either or both.  Life is especially good when you are five.