As kids are going back to school, we thought it was the perfect time to send out some reminders as well as scenarios/scripts for handling some of the more regular conflicts that can come up. This is the fourth post in a series of "Back to School" tips.
Unattended Children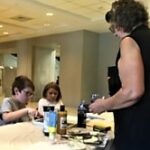 As a reminder, here is our Unattended Child Policy:
Policy
The Library does not act in loco parentis (in place of parents) and Library staff does not have the
authority to take responsibility for your child. A child must be continually accompanied by a
parent, legal guardian or caregiver unless the child is attending a library program.

If an unattended child calls attention to him/herself, Library staff will attempt to locate
the parent/caregiver in the library and inform him/her of the policy.
If the parent/caregiver cannot be found, the Topeka Police Department will be asked to
intervene.

Parents/legal guardians/caregivers and children who are in violation of this policy are
subject to suspension of library privileges.

Definitions
For the purposes of this policy,

a

child

is anyone under 8 years old

a

caregiver

is any individual 12 years of age or older who has the authority andresponsibility to care for a child by the child's parent or legal guardian.
Scenerio: Kids are playing hide and seek in the East Wing. Only one of them looks old enough to be here unattended. Potential Response: I see you're playing a game of some kind that looks like hide-and-seek or tag. You can't play running games inside the library. You could get hurt or you could hurt someone else by doing that. Are you here with a grown-up today? [No.] How old are each of you? [9 and 7.] (to the 9 year old): Well, you are old enough to be here on your own so long as you can follow the rules. Can you do that? (to the 7 year old): I'm afraid you're not old enough to be here without someone who's at least 12 to be in charge of you. Are you together? [Yes.] We'll need to get a hold of someone who lives with you to see what to do. Let's find a phone and make a call.
The clearer our expectations and messaging are at the beginning of the school year, the easier the school year will be for all customers and staff. Thanks for your help in making sure kids feel safe and welcome in the library!
We're here to help if you have any questions and to support you in your work!
Your Public Services Team – Marie, LeAnn, Autumn and Debbie