As kids are going back to school, we thought it was the perfect time to send out some reminders as well as scenarios/scripts for handling some of the more regular conflicts that can come up. This is the first post in a series of "Back to School" tips. The other four will be coming next Tuesday through Friday.
After School Snack
Our after school snack program is held in the Learning Center from 3:30-4:15* during the school year. Children attending the snack program are still expected to follow the Customer Conduct Policy. Please note that snack must be eaten in the Learning Center and can't be taken out of the space due to the rules guiding the program.
* Corrected to 4:15. Please note, as of right now the library public website and signage incorrectly state that snack ends at 4:30.
Curious Kids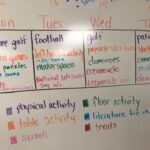 An afterschool program series, called Curious Kids, is offered from 4:30-6:30 Monday-Thursday during this school year. The programs are open to children 5-12 years old and will be in the Learning Center. Every day is different but will include activities of interest to school age children. If you notice school age children that seem unsure of how to keep themselves busy, this is a great opportunity for redirection. From 6:30-8:00, one night each week (to start) there will be enrichment and family time drop-in programs. The goal of these programs is to provide enrichment that develops lifelong learning and sparks passion for learning. The overall schedule for after school is 3:30-4:30 snack (Mon-Fri), 4:30-6:30 Curious Kids (independent activity and homework help, Mon-Thu), 6:30-8:00 Enrichment and family time (one night each week to start).
The clearer our expectations and messaging are at the beginning of the school year, the easier the school year will be for all customers and staff. Thanks for your help in making sure kids feel safe and welcome in the library!
We're here to help if you have any questions and to support you in your work!
Your Public Services Team – Marie, LeAnn, Autumn and Debbie