Hello, our Summer Learning team is super excited about this week.  We're counting down to the 50th anniversary of mankind's first steps on the moon on July 20th!
On July 13th some of our team already got busy, organizing and helping with the "Lift Off" program at Gage Park.  Kids got to assemble and launch their own rockets!
Monday, July 15th we will be hosting Mad Science of Greater Kansas City as they present their "Walking on the Moon" show.  I can't wait to see what sorts of interactive, science based fun they bring for the kids.  Watch this video to get a taste of what to expect, and be sure to direct any here at 10:30 AM or 2:30 pm over to the Marvin Auditorium for the show:
Wednesday July 17th will bring more family oriented fun as we host the Moon Landing Celebration from 5:30-7:30 pm in the Marvin Auditorium.  This is a come and go event where we will  have several stations around the room with crafts, games and activities.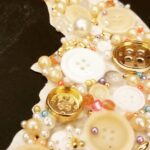 One of the crafts we will be making are button moon pictures, as in the picture to the right.  We'll also be making moon phases with Oreo cookies and serving special "Marshmallow Moon Moon Landing 50th Anniversary" cookies.  We'll also be making Astronaut Helmets.  And those are just a few of the fun things we'll have going on!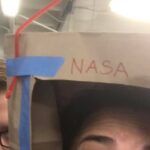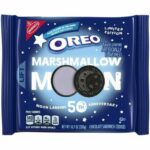 Friday, July 19th We'll have 2 showings of the movie The Dish in the Lingo room.  The first one is at 1 pm, and the second one is at 5 pm.  The movie is centered around the Apollo 11 moon landing, but focuses on a small town in Australia where a large radio telescope dish is located.  NASA needs this dish to relay the TV signals from the Moon to people all over the globe.  Suddenly a group of small town residents are in charge of an incredibly important project.  This is the fictionalized story of how they pulled it off.
Speaking of watching the Moon Landing as it happened…most of us have heard people tell their stories of where they were and how they felt when they experiences mankind's first steps on the moon 50 years ago.  On Saturday July 20th they will have a chance to share their memories with us and have them video recorded.  That event will be from 11 am – 3 pm in the Lingo Room (currently scheduled for the Learning Center but I'm not thinking it will be ready in time,  The Lingo Room is our back-up).
Also it's not something our team planned, but everyone should know that the first event we are having in Claire's Courtyard in also on Saturday July 20th. Cocktails in the Courtyard: Fly Me to the Moon is happening "after hours" from 6:30-9:30 pm
Experience exclusive after-hours fun and cocktails in the library! This is our first 21+ event in the new Claire's Courtyard. While the festivities will start in the Courtyard, we'll have a photo booth, trivia, an escape room, cash bar and creative activities for adults throughout the library from 6:30-9:30pm. With a $25 ticket you'll receive entrance to the event, heavy appetizers and one drink ticket. Tickets are limited so get yours today.
Tickets are available at: https://www.eventbrite.com/e/cocktails-in-the-courtyard-fly-me-to-the-moon-tickets-60576390615
I think there's truly something for everyone during our "Moon Week"!
Deb Ellerbrook and Sherri Camp – Summer Learning Week team leaders
Team members:
GR Marchant
LeeAnn Hunter-Roach
Brian Adams
Sheri DeNoon
Trish Reuter
Luella Minner
Kevin Lorsen
Judy Espinoza-Gonzalez
Ramona Smith – who is no longer with us but who cut out all of our moons, stars, and other craft pieces before she left!