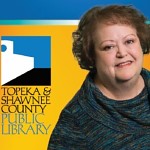 The hidden talents of our fellow staff members are on display in the Gallery exhibit Alter Egos. I'll be featuring a different artist each week until the show closes on Nov. 29.
This week's featured artist is Kate Hughes, Training Professional. Kate has a watercolor and mixed media piece in the exhibit.
Why did you choose watercolor and mixed media ​as a means of expression?
I love watercolor. Seeing the color puddle in water, trying to control it sometimes by leading the paint with the brush or just painting with water, touching areas with colors, and having them bloom into one another. Letting it dry and glazing over areas again to define shape and make the color more intense is exciting too.
I often start a piece with an idea, and then just see what happens or develops. I paint mostly landscapes, realistic or abstract with wilder colors. I work big, normally 24" x 36" sheets. Because watercolor takes patience and drying or thinking time, I usually have a collage of some sort going on another table.
Collage — a mix of papers, prints, calendar pictures, color, textures, objects, even sometimes a paw print — is real play. It brings the fun back to the watercolor piece in progress. And, 1 to 2 out of 3 times when the painting doesn't work, pieces of it can wind up in the collage, or as a set of small cards, or a paper weave.
My watercolors in "Alter Ego" are very different.  They're the smallest I've ever painted, more controlled than I normally work, and a completely new subject.
I think because things generally felt out of control, I wanted to see if I could do it. Thoughts tended to spiral, so I adopted a kitten in June. He has certainly been diverting company for me and my one-year-old cat, Lucy. His name is Cosmos; his nickname Chaos.  I wanted to see if I could create something better than a photograph to celebrate the two of them.
I cheated with this piece, unlike the masters of the medium. Because cats refuse to hold a pose, and because I draw big and tend to draw right off the edge of the paper, I took photographs I wanted to work from and used a photo editor. I turned each into a sketch with very light gray lines and used that for the basic drawing and placement on the watercolor paper.
When I got stuck on value or seeing the main shapes over detail, I looked at the photo on screen with a posterized or high contrast view to bring out those areas. Bright whites bring light to watercolors, and another method I used with these was carefully scratching the colored surface layer of the paper away with an x-acto knife to reclaim whites in places.
What's your favorite art-making tool or material?
My favorite art-making tool is a really good brush: long handled, high quality, big bristled that comes to a perfect point and paints both wide swathes of color and perfect detail. With the right brush, I only use one.
If you had an unlimited budget, what's the first thing you would buy for your art?
If money was no object and I could get anything art-y, the first things that come to mind are a 5-drawer flat file or a mat cutter. But I think the thing I'd really get, one that has the most possibility, is a 10-yard roll of Arches, cold-press watercolor paper. Then I could try painting really big pieces.
Thanks to Kate for sharing her thoughts on her creative process!
Check out artwork by other talented staff members in the "Alter Egos" exhibit through November 29.