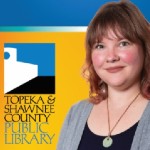 The hidden talents of our fellow staff members are on display in the Gallery exhibit Alter Egos. I'll be featuring a different artist each week until the show closes on Nov. 29.
This week's featured artist is Julie Velez, Public Services Specialist. Julie has oil paintings in the exhibit.
Why did you choose oil painting ​as a means of expression?
I wanted to reimagine a photograph that I had taken a few years earlier that had a more painterly style and I wondered how it would translate to a new medium. I chose oil paint for the vibrancy of the colors and the flexibility it gives when blending and working with those colors.
Oil paint takes a very long time to fully dry, so there is more time to play with the form and to layer the paint with various effects depending on how much medium is mixed with the paint. In terms of oil painting, medium is a liquid that I add when I am mixing my oil paint to affect the way it performs.
It was also an experiment in doing something with a more expressionistic style. Most of my other oil paintings have been in a photorealistic style. I saw this as an opportunity to focus less on technical proficiency in my painting and more on how I was feeling and the emotions I was trying to work through during the painting process. These paintings were very emotive for me because I was working through a grief process and trying to figure out what my new normal would look like.
What's your favorite art-making tool or material?
This is such a difficult question because I dabble in all kinds of art processes. As much as I love painting, I would have to go with my camera because photography was the first art form I fell in love with and it opened so many doors for me.
It is also my most frequent starting point. I'll see something that inspires me and take a photograph of it to remind me later or I will create a photograph to use as a model for what I am painting or drawing. It helps me to be more in the moment and I love having a camera on my phone. I often joke that I bought a camera that makes phone calls and texts.
If you had an unlimited budget, what's the first thing you would buy for your art?
I'm tempted to offer up a fancy camera or lens as an answer, but I think the most useful thing I could invest in for my art is studio space. Not only a place to create photographs and paintings, but with enough room to spread out and store all the art that I create.
I'd like to be able to work on larger canvases when I paint and to be able to have indoor opportunities to create photographic portraits during the winter months. Over the years, I've dreamt up ways to convert my garage into a darkroom or studio (it's not really feasible) and I've certainly made use of the extra space I do have.
Thanks to Julie for sharing her thoughts on her creative process!
Check out artwork by other talented staff members in the "Alter Egos" exhibit through November 29.