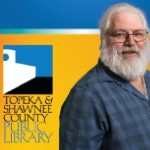 The hidden talents of our fellow staff members are on display in the Gallery exhibit Alter Egos. I'll be featuring a different artist each week until the show closes on Nov. 29.
This week's featured artist is Jim Mosher, Public Services Specialist in Red Carpet. Jim's performance of "Dancer's Dream" on harp and recorders is playing in the exhibit.
Why did you choose music as a means of expression?
Music is how I best express myself, in fact I was singing before I could speak. At least that's what I imagine. Music has the ability to touch the spirit in a way that no language could.
One of the special services that I provide through the library is that I take the harp out to play for people under hospice care, and it is this calming, healing energy that permeates all the music I offer. During this time of Covid and the 'stay at home' order, I couldn't provide any of my services in person, and at this time (6 months+ later) that is still the case.
To ward off my withdrawal symptoms I decided to create some videos. I began with some of my favorite pieces and started recording. "Dancer's Dream" is one I chose because the melody is lovely and needs to be heard. Steve Clark is the composer and was one of the founding members of The Castle & Cross Consort, which is a recorder ensemble. He wrote this piece for his daughter, who was dancing with Ballet Midwest at the time. Steve has since retired from the group, but we are still blessed with his music.
What are your favorite musical instruments?
Quick answer to that is "the one I'm playing at the time." I know it sounds facetious, but it is actually true. I play a number of instruments; flute, oboe, English horn, recorder (of which there are several voices) and harp (I own 4) just to name a few. They each have their own unique voice and personality as well as their own unique trials.
The one that may be the most satisfying is the harp. I've already mentioned the soothing and healing energies that the harp has (as do all instruments), but it goes further than that. With harp, you don't NEED anyone else to sound complete since it has the full range of a piano and, like a piano, can accompany itself.
As I play, I will often drop into a meditative state where the music is all encompassing, where I can improvise and anything can (and often does) happen.
If you had an unlimited budget, what's the first thing you would buy for your music?
The ultimate goal is to have a building large enough, and fully equipped, to house a performance space, a recording/live stream studio and rehearsal spaces. This would be available to other musicians and ensembles as well.
Thanks to Jim for sharing his thoughts on his creative process!
Check out artwork by other talented staff members in the "Alter Egos" exhibit through November 29.