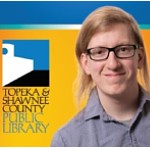 The hidden talents of our fellow staff members are on display in the Gallery exhibit Alter Egos. I'll be featuring a different artist each week until the show closes on Nov. 29.
First up is Kody Stadler, Youth Services Specialist. Kody has mixed media and photography pieces in the exhibit.
Why did you choose mixed media and photography as a means of expression?

The short answer is because I can't draw or paint very well. Ha! But, as a writer, I've always loved telling a story, and sometimes words don't quite cover the message I'm trying to communicate.
With visual art, I'm able to speak more abstractly while still provoking those same feelings I like to conjure with my words. In the case of mixed media, there's a freedom there too I really enjoy – why not throw in some coffee grounds or rose petals? What would that look like? What does that say?
What's your favorite art-making tool or material?
Honestly, whatever's around, but I love experimenting with cheaper materials and seeing what works. There's a grandiose, still beauty in perfection, but I find myself more attracted to imperfections and mysteries.
In photography, I'm usually drawn to film-based cameras for that reason. You never really know what you might get until you see it.
If you had an unlimited budget, what's the first thing you would buy for your art? 
I would absolutely love to have a darkroom setup. When I was studying advanced photography at Washburn University, we were allowed 24-hour access to the on-campus darkroom and I miss getting lost in there until the early hours of morning.
Usually in photography, you take the picture, but someone else must develop the film or print a copy of the photo for you. This way allowed me to have a complete hands-on approach throughout the entire production process and experiment with different ideas freely.
Thanks to Kody for sharing his thoughts on his creative process!
Check out artwork by other talented staff members in the "Alter Egos" exhibit through November 29.