There have been a number of questions lately about phones jumping to In a Meeting mode without being explicitly set. This is because ShoreTel integrates with your Outlook by default, and tries to match your schedule with the appropriate mode. It will also attempt to match your Out of Office time to what is scheduled in your Outlook.
This functionality can be handy if you want to be sure your phone isn't ringing off the hook when you're in a meeting, or not in the office, but because shifts can vary so much day to day it can be confusing when it changes modes unexpectedly.
If you want to disable this meeting integration, there are a few short steps to follow. Because this change is system wide, you will only have to do it once, no matter how many computers you have set up your phone on!
Disabling Outlook Integration
In ShoreTel, click on the ShoreTel symbol > Options
From the Menu, click on Outlook. The portion we want to focus on is Calendar.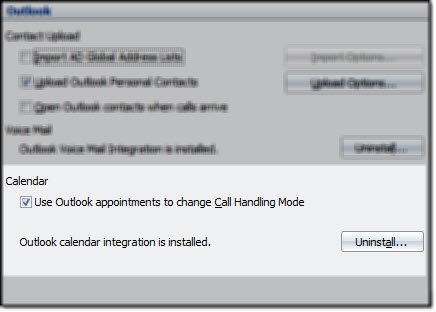 If the box is checked, your phone will follow your Outlook calendar settings, for meetings as well as out of office times.
If you want to disable this integration, simply uncheck the box and click OK. Your phone will remain in the mode you set it to until you change it.
What if the box is grayed out?

If the box is grayed out, it is because the integration plugin is not installed on your computer. To enable it, close Outlook (if it is open) and click Install.
Now that the box is no longer grayed out, uncheck it and click Apply. When done, you can click on Uninstall again and OK out of the options menu.
As mentioned before, your choice will persist across all of the places you log in, so you only need to set this in one place.