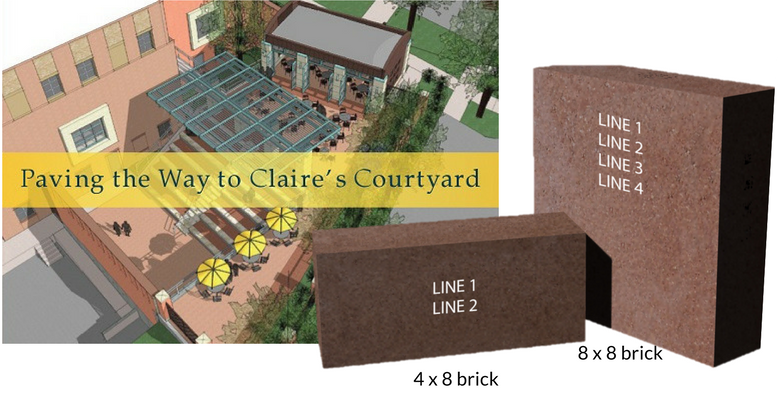 Dear Library Staff:
The Library Foundation launched a brick campaign as part of the Claire's Courtyard project which is scheduled to begin this month. We encourage you to be one of the first to participate in the campaign and to help us inform others of the possibilities. Ordering can be completed online, or forms are available at the information desk in the rotunda. Thanks for your help!  Here are the details:
Your name can be set in stone in Claire's Courtyard being built on the west side of the Topeka and Shawnee County Public Library. Claire's Courtyard is funded from a gift by Dr. Glenn Swogger. The courtyard will include an outdoor eating area, amphitheater and pavilion. Building plans include commemorative bricks as part of the amphitheater.
Consider leaving a lasting tribute by gifting a brick in memory of, or in honor of, a family member or friend, a new graduate or someone having a birthday you want to recognize.
With your help, the furnishings for the courtyard will be funded with donations through the brick campaign. Don't miss this opportunity to be a part of the courtyard and have your name set in stone.
The Library Foundation is a 501 (c)(3) non-profit organization. Your purchase of a brick is 100% tax-deductible. You may order as many bricks as you like.
4″ x 8″ Brick – $75 (two lines of engraving) 
8″ x 8″ Brick – $125 (up to four lines of engraving)
(14 character limit per line – ANY SPACE, PERIOD, COMMA, DASH IS CONSIDERED ONE CHARACTER)
ORDER YOUR BRICK TODAY!  The order deadline is August 31, 2018.